What we catch and when???
Here is a month by month breakdown of what to expect to catch during the different seasons. Size and creel limits are listed in the text and also at the link listed below:
Maryland Tidal Recreational Fishing Regualtions
Click on the months to display what to expect to catch in that month/season.
April 21st marks the opening day of the 2018 Trophy Striped Bass Season in MD waters. Some of the largest striped bass (rockfish) of the year will be caught from this day through mid-May. The size/creel limit during this season, which ends on May 15th, allows 1 Striped Bass (Rockfish) per person per day over 35 inches in length. During this spring trophy season the large adult stock of striped bass is migrating to and mostly from their spawning sites in the Chesapeake Bay's many tributaries. Along this journey they gorge themselves on menhaden (alewives or bunker), which is the primary forage for these large fish. Many of the stripers caught during this season are truly amazing specimens, some reaching the 40 lb. class and a few even reaching the 50 lb. class.
Because these fish are suspended in the water column and not held in any particular area, trolling is the method of choice for catching these large spring stripers. We troll as many as 34 lines at a time to successfully cover a large area and many different depths. It is truly amazing to watch us set and fish a 34 rod spread (we even let you help with putting the lines out). The lures we troll consist of 2 to 12 oz lead head parachutes jigs rigged with 9" plastic shads. Many are rigged up tandem to double the chances of getting a bite or occasionally catching two trophy fish on one rod. Our massive 34 rod spread gives the appearance of a school of menhaden (baitfish) swimming through the water and our highly tuned methods are very effective. In an effort to be 100% honest with our customers & potential customers, the Spring Trophy Season is no longer the wide open, everyday slaughter that it was for several good years while the population of Adult Stripers was at its utmost peak. We still catch big fish and compared to our peers our catches are still very impressive, but compared to our catches 5 or 6 or more years ago our Spring catches are far from impressive most days. So if you want to catch an over 40inch Striper, late April and early May is still the best time to go, but it will take some patience!
Come and join the excitement! Because of the great fishing opportunities for trophy fish during the last two weeks of April and the first two weeks of May we will be chartering two trips per day to allow a greater number of clients to enjoy this great spring fishing. Call today these dates go fast!!!
This is a month of change. When this change occurs varies from year to year according to water temperatures and weather. May begins the same way April ends with trolling for trophy striped bass. This normally lasts until at least the first two weeks of May and, some years, when we have cold springs, this trophy fishing can continue into the very end of May. Regardless of when the trophy fish decide to migrate out of the Bay and up the Atlantic Coast towards their summertime haunts great fishing for smaller resident striper begins immediately upon their exodus. In fact, some of the best & most consistent fishing we have to offer occurs as soon as the trophy trolling bite dies when we often catch a few "straggler" trophy stripers while targeting these resident Stripers. Trolling with smaller 6inch baits is the key for success in late May as is being where the masses of fish are. The size/creel limit for striped bass (rockfish) changes May 16th to: [2 fish @ 20"-28"] or [1 fish @ 20"-28" and 1 fish 28"+].
May has it all: big fish early and very consistent action late. Don't miss this awesome month of fishing...call today for a date!!!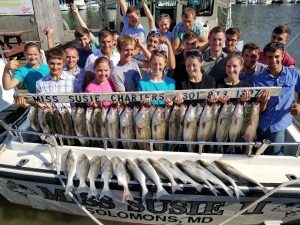 Fishing in June normally begins the way fishing ended in May: with excellent & consistent fishing for 20" to 36" striped bass (rockfish) mostly trolling with a downsized trolling spread. The bottom fishing for Spot, White Perch and some Croaker normally kicks off in mid to late June as well.
As soon as Spot arrive in our area, we switch gears and begin to target Rockfish with the fun and exciting method of light tackle, live lining. We use Spot (smallish bottom fish) that our customers catch themselves with rod and reel on bottom rigs to put on a hook and cast out into a pile of hungry Rockfish. Nothing gets a school of Rockfish in a frenzy like tossing 6 fresh, lively hooked Spot on top of them. It normally doesn't take long and the action kicks off with live Spot being annihilated as soon as they get down to the hungry Rockfish. Mid to Late June is probably the best time of year to catch big stripers on light tackle.
This is one of the best times of the year for a family trip. Children truly love light tackle, live lining for rockfish and the fast action bottom fishing for Spot, Perch, and some Croaker is a lot of fun as well. With school just out for the summer and the weather pleasant, this is the time: Take your kids on a fishing charter and they will remember it forever.
During this month, due to high demand, we will be offering two trips per day: A 5:30 AM rockfishing charter with bottom fishing and a 12 noon rockfish/ bottom fishing charter. June dates go quick, give us a call so you can get in on the action!!!
July is an interesting month. Light tackle live lining or trolling smaller lures for rockfish usually continues to be very productive. Bluefish (8" min./ 10 per angler per day) start showing up while live lining for rockfish and when they are hooked they provide an action packed fight. Some of the first bluefish to show up each year are usually small (9"-14" the best eating size) but as the summer goes on, some larger bluefish up to 8 lbs. will be caught.
By the first week of July (most years) large numbers of large Norfolk spot move into the area. These bottom fish bite furiously during daylight hours and are very strong fighters for their size (8"-13"). They are excellent eating and since there are no limits on them you can take home loads of them for a fish fry. Spot fishing is always a great way to end a charter trip after a limit of rockfish has been caught. While catching Spot, often White Perch are abundant as well and while not as appealing to the Rockfish as bait they are incredible eating.
July is a great month to enjoy several different types of fishing. Since your kids are out of school and the weather is warm take your family fishing, you won't regret it!!!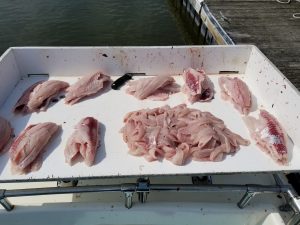 Surface feeding activity usually heats up for rockfish, bluefish, and Spanish mackerel (14" min/ 15 per angler per day) during the month of August. Light Tackle Live Lining is normally still very productive for rockfish and bluefish. Casting lures and trolling through schools of breaking fish are also very productive methods of catching rockfish, bluefish and mackerel. Bottom fishing for Spot and White Perch is normally red hot as well.
August is normally a hot month, so is the fishing, come join us for a beautiful, fun-filled day on the Bay.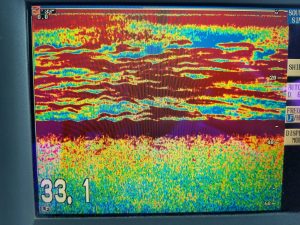 August and September are the two most similar back to back months on our fishing calendar. Rockfishing stays good through September. Bluefish and Spanish mackerel catches are normally very good especially if it's a dry summer (higher water salinity). Spot also bite consistently for at least the first three weeks of the month. Live-lining for rockfish is often very productive during September and with out a doubt a very exciting way to catch fish. The temperature is dropping, the kids are back in school, come join us on an adventure where you could catch 5 or more kinds of fish in one trip!!!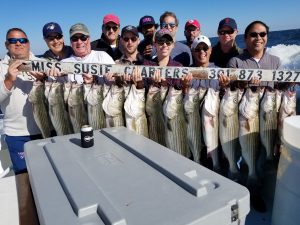 Much like May, October is a month of change. By October, bottom fishing for Spot and White Perch is usually very good early and as the water cools, so does the bottom fishing. Live-lining for rockfish and bluefish is still going strong and often getting better as the water cools. By mid October there are usually a few large (28" and larger) rockfish to be caught on live Spot by anchoring over structure. These first few "big fish" of the fall are not the migratory stripers we catch in the spring and late fall but are a sample of the small population of resident "big fish" that are just leaving their shallow water summer haunts. Fishing for these resident "big fish" on light tackle is a blast.
October is also a very busy month because of historically good catches and milder temperatures. Book a date early and enjoy the Chesapeake Bay at its finest: rock fishing in the comfortable autumn weather!!!
November used to mark the return of the migratory stock of trophy striped bass from the Atlantic Ocean. However, with the population of these large, migratory fish down from their peaks five plus years ago and milder falls, our efforts in November are geared towards the abundant resident Stripers. Early November the past few years has showcased the very best of the light tackle live lining that the Chesapeake Bay has to offer with tons of fish in the 28 inch to 38 inch Range. Stockpiling Norfolk Spot is very important and we have become experts at it! When the weather finally does turn mid to late November, we return to trolling with 6 inch baits and do very well either targeting fish tight on structure or chasing the birds to find large schools of feeding fish.
Fishing the Bay in November is a hoot!
December is the "last hurrah" for Miss Susie Charters. Just because it is our last month of fishing until next April means nothing; December can be the most exciting month of the year to fish. Since the best striper fishing is normally in the lower part of the middle Bay (MD/VA line area), we fish out of Point Lookout Marina in Ridge, MD during the month of December. This allows us to have the option to run to Virginia waters if that is where the bite is. It also extends our season because the Maryland Striped Bass Season closes December 20th, while the Virginia Striped Bass Season runs though December 31st. Like November dates, December dates go fast. This is your last chance of the year to land a trophy striped bass, hope to see you and HAPPY HOLIDAYS!!!