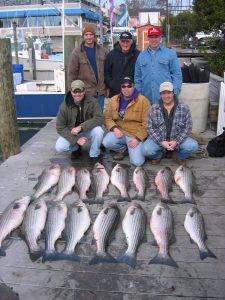 Wow, is all there is to describe the fishing action out of VA Beach this month aboard my other boat FIN FINDER.  We have fished nearly every day since December 30 and we have captured our limit of two stripers over 28 inches per person every day without fail.  Most days we are finding massive schools of trophy Stripers and while only using 6 or 7 rods, we are loading every rod up with fish all at one time.  For almost half of our trips we have loaded every rod with two trophy fish at one time. We are booked everyday through January 30, then our schedule opens up and we have several prime dates still available.  The two day package deal is a great way to experience VA Beach at its finest.  The two day package deal includes the following……..
Two charters on back to back days for 6 passengers
2 nights with 3 rooms (two queen beds per room) at the Days In
tip for first mate
fish cleaning (2 trophy fish per person)
All of this for $400 per person for 6 passengers (I have had to raise this price a little because of the rapid fuel price hike and the long runs we are making everyday).  On some days if our run to the fish is super long, I may have to tack on a fuel surcharge not to exceed $10/person/day.  The runs to the fish are long some days, but the fishing action is absolutely amazing once we arrive on the fish.
Spring will be here soon.  And our Spring Trophy Season begins on the third Saturday in April.  We will be running two charters per day, every day for a month.  I will be contacting my customers from last Spring to get confirmations for this years trophy season's schedule in early February and after that I will list all available dates for the spring trophy season.  If you and your crew were not on last years book and are interested in a Spring Trophy date, please contact me as soon as possible and I will get your crew on the list, so once I have dates open up, we can schedule your crew for a prime date.
Enjoy the pics and hope to see you on the water this year……………….
click the small image below for SLIDESHOW