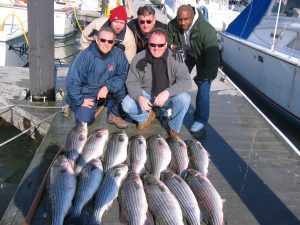 Finally, the BUBBAS are here!!!!  When I went out of town on the evening of November 21st the fishing for the Trophy Stripers was decent at best.  Upon the return from my hunting trip to WV, the fishing the past three  days (11/26,  11/27 and 11/28) has been AWESOME with lots of Real Big fish.  Before Thanksgiving I had zero multiple big fish hook ups this Month and in just three trips since then I have had several and once we had 4 big fish hooked up at one time.  With a milder late fall, I fully expect the Big Fish bite to stay red-hot thru Christmas.  Here is a list of dates still available for Chesapeake Bay Fall Trophies ……
December 14,  15,  16,  20,  21,  22
If none of these dates fit your schedule, I have a few alternate dates still available aboard my other boat FIN FINDER
Starting just after Christmas we will be targeting the Ocean Trophy Stripers fishing out of VA BEACH, VA.  We still have a few very good dates available in January and several still available in February.  For the VA Beach trips, I am once again offering a two day package deal that includes two all day trips, tip for the first mate, fish cleaning and two nights stay in a hotel.  This package deal is set up for 6 passengers and is very affordable.  Enjoy the pics……………
Thanks,
Capt. Greg Buckner
What a difference a year makes!  The first two weeks of November last year was prime time for the Fall Trophies.  This year things seem to be running a little late, the t-shirt weather we had in late October is probably to blame.  While we don't have massive piles of Migratory Fall Trophies in our waters yet, we do have a few and over the last two weeks we have landed some really nice fish.  The fishing for the small and medium (18 inch to 35 inch) resident fish has been as good as it gets.  The last two mornings we have landed between 18 and 22 Stripers from 18 inches to 35 inches in 40 minutes or less.  My plan for the next few days is to target the resident fish first and put some meat in the box and then put the "big fish" 26 rod spread out and hunt for BUBBA for the rest of the trip.  Once the water cools a little more the trophy sized migratory fish will be in our area in great numbers and we will target them exclusively.  Enjoy the pics of the first of our fall trophies……..
Here is a list of dates Available aboard MISS SUSIE for the remainder of  the Chesapeake Bay Season……….
December 14,  15,  16,  17,  19,  20,  21,  22,  23
Dates available aboard FIN FINDER for the remainder of the Chesapeake Bay Season………..
November 22,  29
December 2,  8,  9,  10,  12,  13
Also, the VA Beach winter fishing will be here soon.  Don't miss your chance to do the two day package deal trip, which includes two days fishing, two nights stay at the Days Inn and tip for the first mate, as well as fish cleaning.  Call or e-mail for more info.
Thanks to all,
Capt. Greg Buckner